Not for the Faint-Hearted: 5 Heart-Stopping Backpacking Experiences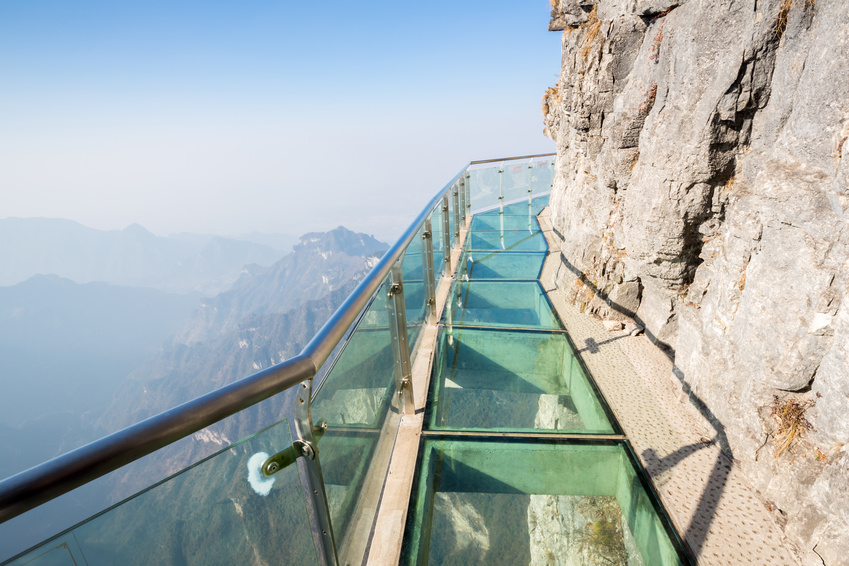 So, you are a bit of a thrill seeker. And you're about to quit the drag of daily life for a while to set out on a backpacking adventure. Even though this thought might be enough to scare the hell out of your dear mum already, just living out of a backpack for months while travelling unfamiliar territory is not quite enough for you. You want to push a little bit further, reach a little bit higher. Feel more alive whilst staring down a 1,430m drop underneath the glass floor beneath your feet (for example).

If this is you, and you're doing it for the thrill...Then you are going to love these experiences that put you on the line between pure horror and adventure.
   1. Walk the 'Walk of Faith' in the Tianmen Mountains, China
Remember that drop that I mentioned earlier? No, I wasn't making that up… In the Mountain National Forest Park of China, there is a 60-metre long path made of glass, which puts those who get their kicks from heights with their feet on a 1,430m vertical drop. Did I mention that the bottom's made of glass? Oh yeah, and the whole structure is casually hanging from the rock of the incredibly steep mountain.
Want more thrills in China? Have a look at the world's most dangerous hiking trail on Mount Huashan. 
      2. Enter a Cave full of Bats, Serpents and Cockroaches in Malaysia
Gomantong Cave in Malaysia is perfect for those who'd like to face their fears on the flying mammals, carnivorous reptiles and giant insects front. Backpackers have reported on ceilings covered with hanging bats (let's hope they will continue sleeping), walls decorated with centipedes and floors seething with cockroaches. Have fun!
     3. Have a Road Trip Along the Wildest Road of Norway
Even if you are the most experienced road tripper, you won't have seen anything like the Atlantic Road (Atlanterhavsveien) in Norway. Featuring incredibly sharp turns, steep descents and ascents, and open sea views which come with lots of wind and splashes of wave, you won't get bored behind the wheel here.
Here is a visual preview. 
    4. Hiking Without Phone Coverage in 'Death Valley', Nevada
Doesn't this hiking destination sound charming? Death Valley in Nevada is the lowest, driest and hottest (think: over 50°C) place on the North American continent. Needless to say, it's not very suitable for a casual stroll. Be inventive, bring lots of water, oh yeah, and if you get lost… chances are you won't be able to call someone. Good luck!
    5. Ride the World's Steepest Roller Coaster in Tamanash, Japan
If you're seeking more of a rollercoaster kind of thrill, try a near-vertical free fall, seven twists and a drop of 43 metres at Fuji-Q Highland Amusement Park in Japan. We're pretty sure this is the rollercoaster-to-end-all-rollercoasters – that is, until Fuji-Q comes up with yet another record-breaking one.
This is what you can expect.
If this isn't enough to send shivers up your mother's spine… then we don't know what is.
Before you head out on your once-in-a-lifetime thrill-seeking adventures, make sure to bag Let's Go Insure's specialist backpacker travel insurance. This way, you can make sure that we've got your back no matter what crazy things you get up to – and it might just slightly put your mum at ease as well.