Moving Mountains: The Most Epic Mount Everest Moments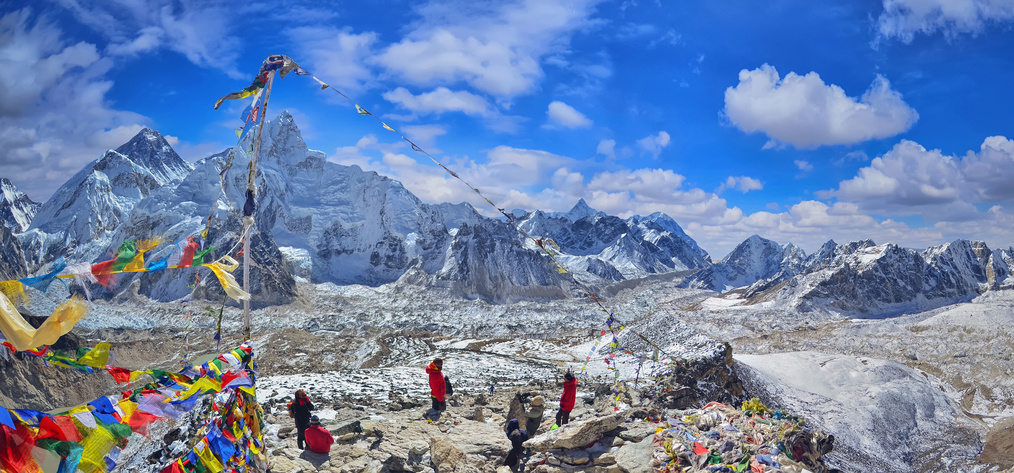 It was back in 1841 that a group of British surveyors travelled deep into the Himalayas as part of the Great Trigonometrical Survey of India – an extensive colonial expedition which aimed to measure the British territories in India. As they traversed the intimidating mountain range, they caught sight of an incredible mountain peak that stood out from the rest for its magnificent size and beauty. Until then only witnessed by the eyes of the local indigenous people, this peak, initially named 'Peak XV', was pegged at 29,002 feet (8,840 metres) by a brilliant Indian mathematician called Radhanath Sickdhar. In 1865, it was named Mount Everest, after Sir George Everest – a Welsh surveyor and geographer who was the Surveyor General of India from 1830 to 1843.

The latest calculations measure the mountain peak at 29,035 feet (8,850 metres), and the numerous expeditions to reach it have made it one of the world's most epic testaments to human courage and determination.
Ever since its existence became known to those beyond the inhabitants of its direct surroundings, the image of Mount Everest has made the hearts of mountaineers around the world beat faster. It comes as no surprise, therefore, that many have attempted to conquer the extreme cold, wind, altitude and lack of oxygen to get to the summit. And some have attempted this in rather unusual ways and circumstances…
The Most Epic Everest Moments
1. Nepalese Apa Sherpa Reaches the Summit for the 21st Time
In May 2011, Nepalese Sherpa mountaineer Apa (born Lhakpa Tenzing Sherpa) made his 21st Mount Everest summit as part of the Eco Everest Expedition – an annual expedition made with the sole purpose of removing equipment and garbage left behind by mountaineers. At age 51, Apa is the record holder for having reached the top of the "Goddess Mother of the World" more than any other person.
Fact: The Apa Sherpa Foundation now helps to build schools and create jobs in Nepal.  
2. Swedish Göran Kropp Cycles to Everest, Summits It, and Cycles Back
In October 1995, Swedish national Göran Kropp departed his home town of Jonkoping by bicycle, carrying 240 pounds of climbing equipment in a trailer behind his bike. The following May, as he was heading towards the world's highest point, a violent storm struck the mountain, stranding a group of Slovenian climbers at high altitude. Kropp abandoned his climb to save some lives along the way, and a week later continued his attempt, reaching the peak solo, without any bottled oxygen nor help from a Sherpa.
Having reached his goal, the exceptional Swede climbed on his bicycle again, and drove the 12,875km back home. Piece of cake.
3. Americans Willie Unsoeld and Tom Hornbein First Climb the Deadly West Ridge
Mount Everest's West Ridge is notorious for being as sharp and serrated as a saw's edge. With a death rate of over a 100% (more people have died than actually reached the top via this route), it's no wonder that this is one of the least popular routes to the world's highest peak. In 1963, however, two Americans named Willie Unsoeld and Tom Hornbein were the first to scramble up and over the summit alpine-style, after having survived several near-lethal incidents…
4. Slovene Davorin "Davo" Karničar Skis Down Everest in 5 Hours
Are you a fan of black ski slopes? Well, then you should meet extreme skier Davorin "Davo" Karničar. On 7 October of the year 2000, he skied 12,000 vertical feet from the highest point of the mountain back to the south-side base camp – a trip which took him a good 5 hours. Scary much?
If you consider yourself an avid mountaineer, you can look up in admiration at these big names who have managed to move mountains with their record-breaking ascends. Who knows… perhaps your name might one day feature on this list as well!
Whether you're into mountaineering or would like to be the new Davo Karničar, make sure you have the right mountain climbing or ski travel insurance to cover you for the heights you may be going. Let's Go Insure is the travel insurance provider of choice for adventurists all over the globe – contact our specialist team today to find out about the lengths we're willing to go for you.