Go Where No One Has Gone Before: Heliskiing Destinations x 4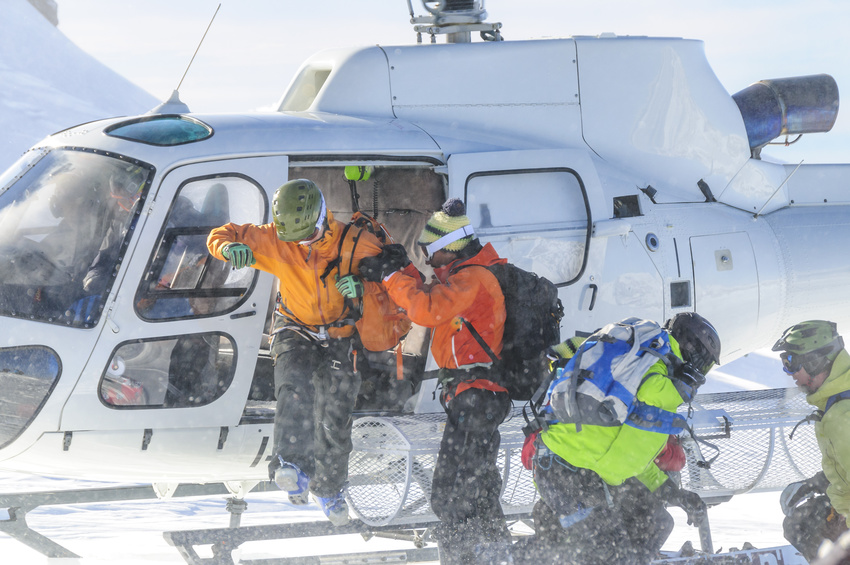 As the loud chopping noise of helicopter wings approaches form across the mountain, you and your mates strap on your helmets, grab your backpacks, and tie together your off-piste Rossignols. Within mere minutes you're up in the air, watching the snow-laden mountainside flash by underneath you as you squint your eyes against the sun. Soon you'll be landing on one of the most remote areas of the mountain, with no one around but you and your mates (and a qualified guide), surrounded by nothing but untouched powder snow...

And guys... this is where the REAL fun starts.
If you're anything like the powder hounds we know, you've left the blue, red, and perhaps even the black diamond pistes far behind you years ago. Groomed slopes have long lost their appeal since you discovered the thrills of off-piste skiing and going where no man may have gone before. And now it's time for a new adventure, to take your passion for the sport to the next level and push your boundaries just that one step further: conquering those parts of the mountain only accessible by chopper.
Heli-Skiing: This Is Where It's At
To get the most out of this new challenge, you'll want to take your pick from only the world's most stunning locations for this trip. The natural environment, snow quality, and features of the mountain range will all influence your experience – not to mention the quality of the guides on site.
According to our most fanatic backcountry-skiing, free-riding clients, this is where to find the optimal conditions for a heli-skiing expedition:
1. Whistler, Canada (British Columbia)
Widely known in the snowsports community as the country where commercial heli-skiing originated, it comes as no surprise that Canada is also the most important heli-skiing destination in the world. In the town of Whistler, specialist companies offer enthusiasts exclusive access to big mountain terrain, a glacier climate, and virgin powder snow in abundance.
2. Lech Zürs, Austria
Like many of its European counterparts, Austria has strict rules when it comes to heli-skiing. If you and your mates do want to stay on the continent, however, the Arlberg region around Lech Zürs is one of those rare places where heli-skiing is actually possible – and permitted. Whereas intermediates will want to take off from below Orgelscharte to descend the run that leads into Schneetal, the more advanced ones amongst us will get their kicks on the run from the Mehlsack summit down to the hamlet of Zug.
3. Telluride, USA (Colorado)
If the famous light, dry powder of Colorado is calling you, try flying beyond the prepared pistes of Telluride and up the spectacular Silverton mountain. From here, it's a heart-stopping ride down gradients that can be compared to those of the double blue and single black diamond slopes found in the official resort.
4. Riksgränsen, Sweden (Lapland)
For the ultimate wilderness experience at 200km north of the Arctic Circle, head to Riksgränsen, Sweden. With expert companies that cover a whopping 5,000 square km of terrain, you don't have to limit yourself to one day of air- and snow-based fun here – go for 3 days, 4 days, or even an entire week!
If you and your mates choose any of these destinations for your heli-skiing adventure, we can guarantee you'll get the thrill of a lifetime – and the most priceless snow under your feet.
WARNING: not all ski travel insurance policies cover heli-skiing, as it is considered a hazardous activity. To make sure that you and your belongings are covered inside the chopper and out in remote backcountry terrain, buy your ski travel insurance from Let's Go Insure – the insurance experts who allow you to go just that little bit further, deeper and higher. Heli skiing is only covered as part of a pre-paid excursion led by professional guides.