Up the Atlas Mountains & Traversing the Sahara: Morocco Explorations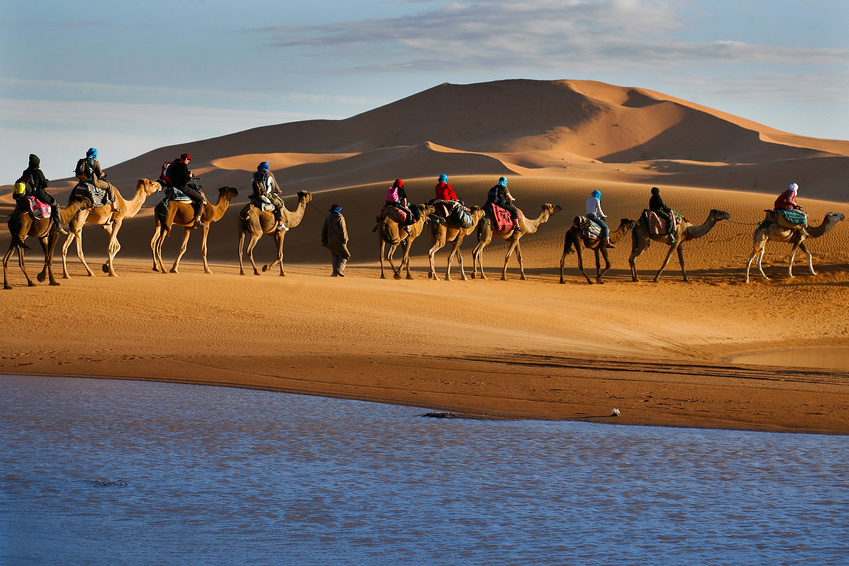 At the crack of dawn, you're woken from your sleep by a gentle call from your tour guide – it is time to start the day. Though the first early rise might be a bit of a shock to your system, it doesn't take long before you'll see the rewards: as the sun rises above the horizon, the dusky sky turns into a palette of orange, yellow, green and blue, proverbially setting fire to the deep orange sands of the Sahara desert. With the soft voices of people waking in the Berber Nomad tents around you, you're getting ready to enjoy a hearty breakfast of Moroccan pancakes with local jam and honey in the camp. After that, it's off into the desert... and up the High Atlas Mountains.
At Let's Go Insure, we rarely have a client who doesn't have a taste for adventure. It's easy to tell a tourist from a traveller, and amongst the globetrotter community, we're known to cater to the latter. When it comes to exploring new countries, a tourist may stay on the beaten track – a traveller will choose the road less travelled. And if Morocco is featuring high on your travel bucket list, this itinerary allows you to experience the rich and deep local culture and incredible nature of its mountains and vast Sahara desert.
From Marrakesh through the High Atlas Mountains
For most who travel to Morocco, the bustling city of Marrakesh is their port of arrival. In this major hub of trade and tourism, you are bound to be blown away by the intensity of unfamiliar colours, sounds and smells – let's say you won't take long to realise that you're indeed a world away from home…
Whereas simply a city trip might be enough for the average traveller, as an adventurous spirit you'll want to take your explorations a bit further – like, up into the High Atlas Mountains. Via the scenic, winding Tizi n'Tichka pass, robust 4 x 4 vehicles can take you and your backpacks across the mountain range and past incredible highlights such as the fortified village of Ait Benhaddou (which is nearly entirely made of earthen clay) and the lush Draa Valley.
Experienced travellers are recommended to make a short stop in Zagora before settling down for a few days in the Sahara Safari Camp – a welcoming tented camp which puts you in a secluded place at the edge of the vast Sahara desert.
Authentic Ways to Experience the Vast Sahara Desert
When based at the Sahara Desert Camp, you'll truly get a sense of what life is like for the Berbers or Amazighs – an ethnic group of i-Mazigh-en, meaning 'free people', who are indigenous to North Africa. Sleep on a mattress on a carpeted floor in a Berber nomad tent made from camel hair, or go for a more luxurious Caidal tent, depending on your budget and the kind of experience you're seeking.
We guarantee that you'll never have seen so many stars at night as from the secluded desert camp…
When you wake up in the morning (and you've experienced the breathtaking Saharan sunrise), a world of authentic adventures awaits. Feel the rocking movements of a camel's tread on a meharee (camel trek), or experience the dune desert and its green, palm-clad oases at a much slower, but more demanding, pace on a nature trek by foot.
For those who are ready for some more adrenaline-fuelled action, a 4 x 4 desert exploration may be just the ticket, and the local tour guides at the camp can arrange a whole range of cultural encounters for you in collaboration with the local tribal community.
Whatever you choose to do, Kamal and his team at the Sahara Desert Camp have designed their excursions and experiences in a way which socially and economically benefits the region whilst minimising the environmental impact on the stunning natural surroundings.
Have You Been Inspired?
Flight times from London to Marrakesh are only 3 hours and 20 minutes and go for £200 – £300 with RyanAir, easyJet or British Airways. Make the most of your trip abroad and stay a while – there is so much to do.
Warning: Not all travel insurance companies include activities such as camel rides, 4×4 excursions and desert hikes in their policies. To make sure you are sufficiently covered, buy your travel insurance with Let's Go Insure – for those who seek that edge of adventure.
*Note that our more advanced single and annual travel insurance packages also include additional 'hazardous activities'. This means you can unleash your adventurous spirit, and not be held back.